Garlock Gylon Gaskets 3500, 3504, 3510, 3545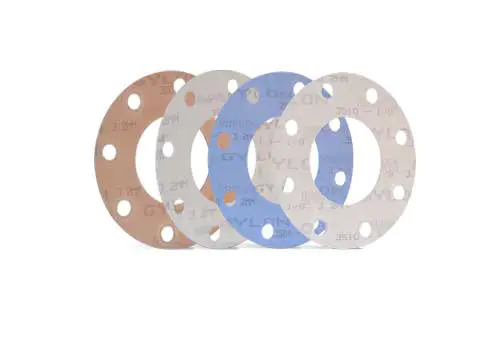 Gylon 3500 Gasket

Garlock GYLON® Style 3500 is a high performance, silica filled PTFE sheet material designed for use with strong acids, solvents, hydrocarbons, and other aggressive media.

GYLON® 3500: Strong acids (except hydrofluoric), solvents, hydrocarbons, water, steam, chlorine, and cryogenics. Conforms to FDA regulations. (For oxygen service, specify "Style 3502 for oxygen service.")

Gylon 3504 Gasket

The Garlock GYLON® Style 3504 gasket is made of PTFE with aluminosilicate microspheres. It is designed for use in many acids, some caustics, hydrocarbons, refrigerants, and more. Blue Gylon colour.
Gylon 3510 Gasket
The GYLON® Style 3510 is a high performance, barium sulfate filled PTFE gasketing material. GYLON 3510 PTFE gasket is designed for use in strong caustics and toxic chemicals, such as chlorine, ammonia, and phosgene, where initiating and maintaining an extremely tight seal is critical. In addition, the GYLON 3510 provides exceptional performance in monomer services.
Gylon 3545 Gasket
The GYLON® Style 3545 gasket is a highly compressible microcellular PTFE with a rigid PTFE core for improved handleability. The GYLON 3545 designed to compress and conform to irregular or damaged surfaces, making it suitable for flanges that generate lower compressive stresses, such and glass-lined flanges and equipment.
Have A Question About Garlock Gylon Gaskets?