UltraPac 8600 – Graphite/Aramid/Nitrile Gasket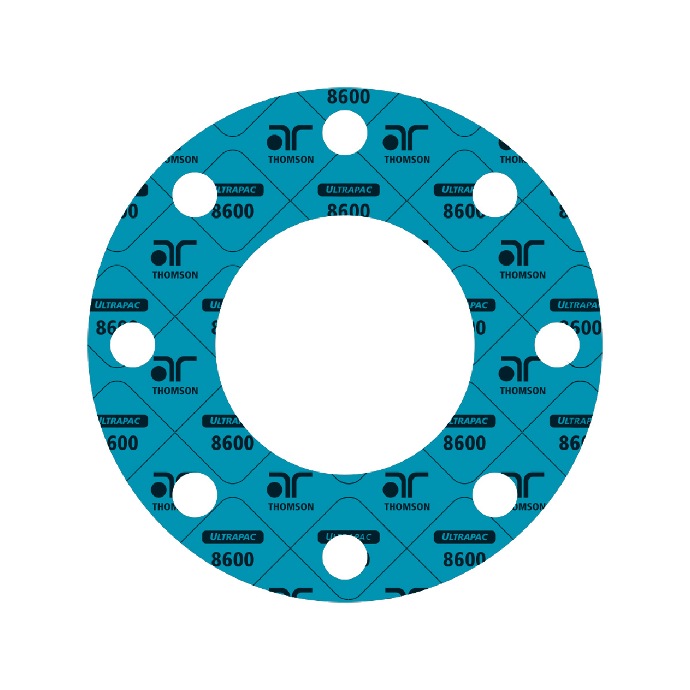 Excellent General Service sheet with outstanding flexibility, improved chemical compatibility, and higher temperature range.
Typical Service: Optimal versatility sheet ideal for steam, petroleum, hydrocarbons, most refrigerants, and brake fluids.
Temp. Range, Max: Intermittent: 825°F; Continuous: 600°F.
Pressure: 1500 psi.
Construction
Graphite / Aramid / Nitrile
Next-Gen Compressed Sheet
Outstanding temperature range compared with traditional sheet gaskets.
Chemical Compatibility: Resistant to a wider variety of chemicals and well-suited for steam service.
Exceptionally easy to handle: Highly flexible and easy to cut making it ideal for narrow flanges or hand-cutting irregular gaskets. This increases productivity while minimizing waste.
Hazard-Free: Produced using a chemical-free, water-based process that is Nitrosamine-free and environmentally friendly.
Anti-Stick Technology: Thomson Sure-Release™ Anti-Stick Technology for easy removal, even after long-term service at high temperatures.
Have A Question About UltraPac 8600 Gaskets?