API Mechanical Seal 9100S Series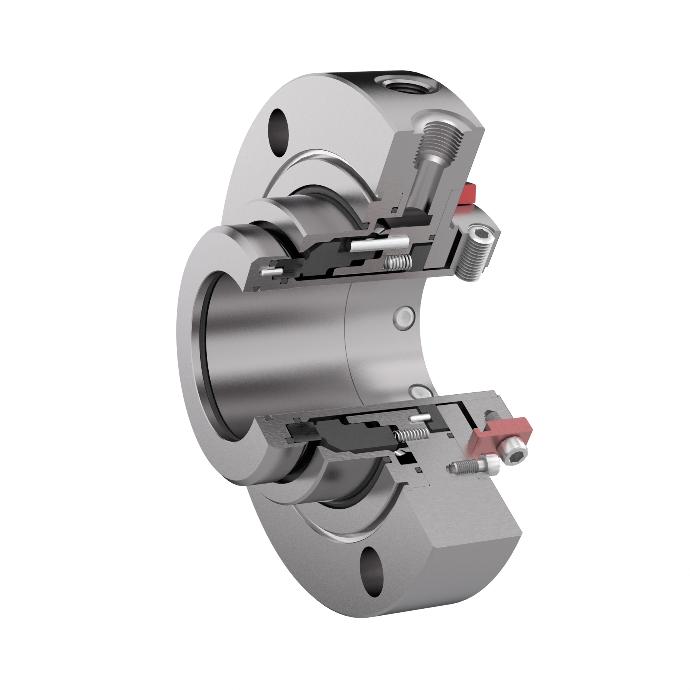 9100S Flashing Process Seal

The 9100S is a single cartridge mechanical seal designed especially for pump installations with low density and high pressures commonly found in refineries, petrochemical and chemical industries. This mechanical seal is designed for clean media.

- Cartridge construction, fits into smaller pump stuffing boxes.
- Seal service and repair in three Canadian provinces.
- high resistance against pressure deformation.
- low friction reduces startup loads.
- operates with API 682 plan: 11, 12, 13, 21, 22,23 (with engineered option).

Designed to operate in applications where the process media is close to vapour pressure, the 9100 Series features flexible stationary technology and can be supplied in single, wet dual, contacting and non-contacting secondary containment configurations.
Materials
Metallurgy; 316L, Alloy C-276, Titanium.
Elastomers; Viton, EPDM, Nitrile, Aflas, Perfluro Elastomers
Faces; Silicon Carbide, Tungsten Carbide, Resin Carbon, Antimony Carbon.



Performance characteristics
Pressure: 500PSI
Surface speed: 15m/s
Temperature limits (subject to materials and media compatibility) -40°C-250°C (-40°F – 482°F)

According to API 682 4th Edition
"Perpendicularity of the mating ring to the shaft axis is important for both stationary and rotating flexible element designs. "

"Perpendicularity for a rotating mating ring mounted on the sleeve (where a stationary flexible element is used) is controlled by the seal sleeve run out and perpendicularity of support surface on the sleeve. It is independent of the seal chamber face run out. An advantage of a stationary flexible element is that it will deflect to a fixed position to align with the rotating face. "

This fundamentally means that whilst the current standard views rotating and flexible element seals as the same. A design using a flexible stationary element has some benefits over flexible rotary designs that can not be dismissed.
API Seals and Suspended Solids:
Seals using a stationary flexible element with springs external to the process liquid are also a proven design in process fluids with high particulate concentrations.

Stationary flexible elements are preferred in many oil and gas applications such as:
• High-temperature pumps
• Multi-stage pumps
• Pump installations with high pipe strain
• High-speed applications
• Shaft diameters above 4.25"
It is important to note that the advantages of the flexible stationary face would apply even in applications that are not as demanding as those noted above. Flexible stationary faces should be considered the preferred option in almost all applications.