API Seal 9100D Dual Series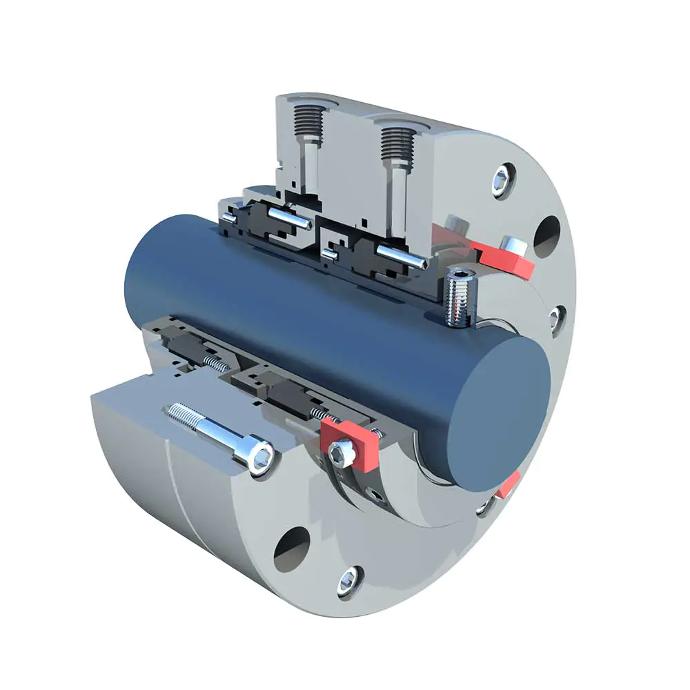 For applications requiring enhanced environmental and safety protection, the 9100 series dual seal can work in either an unpressurized buffer environment or a pressurized barrier fluid system.

The 9100D is a dual cartridge mechanical seal designed especially for pump installations for liquefied hydrocarbons of low density and high pressures occurring in refineries, petrochemical and chemical industries. This mechanical seal is designed for clean media (without mechanical inclusions and abrasives). 9100D seals Provide emissions-free operation using a dual seal arrangement according to API 682 arrangement 3 with cooling-separating liquid installation and atmospheric tank.
Requires a seal support system such as Plan 52, 53a/b/c, 54,55.
Can use non-contacting containment faces in certain applications
Low friction due to the optimal form of main sealing rings.
Provides critical environmental protection in the event of a primary seal failure.
Materials
Metallurgy; 316L, Alloy C-276, Titanium.
Elastomers; Viton, EPDM, Nitrile, Aflas, Perfluro Elastomers.
Faces; Silicon Carbide, Tungsten Carbide, Resin Carbon, Antimony Carbon.

Performance characteristics
Pressure:500PSI
Surface speed 15m/s
Temperature limits (subject to materials and media compatibility) -40°C-250°C (-40°F – 482°F)
According to API 682 4th Edition
"Perpendicularity of the mating ring to the shaft axis is important for stationary and rotating flexible element designs. "

"Perpendicularity for a rotating mating ring mounted on the sleeve (where a stationary flexible element is used) is controlled by the seal sleeve run out and perpendicularity of support surface on the sleeve. It is independent of the seal chamber face run-out. An advantage of a stationary flexible element is that it will deflect to a fixed position to align with the rotating face. "

This fundamentally means that, though the current standard views rotating and flexible element seals as the same. A design using a flexible stationary element has some benefits over flexible rotary designs that can not be dismissed.
API Seals and Suspended Solids:
Seals using a stationary flexible element with springs external to the process liquid are also a proven design in process fluids with high particulate concentrations.

Stationary flexible elements are preferred in many oil and gas applications, such as:
• High-temperature pumps
• Multi-stage pumps
• Pump installations with high pipe strain
• High-speed applications
• Shaft diameters above 4.25"
It is important to note that the advantages of the flexible stationary face would apply even in applications that are not as demanding as those noted above. Flexible stationary faces should be considered the preferred option in almost all applications.