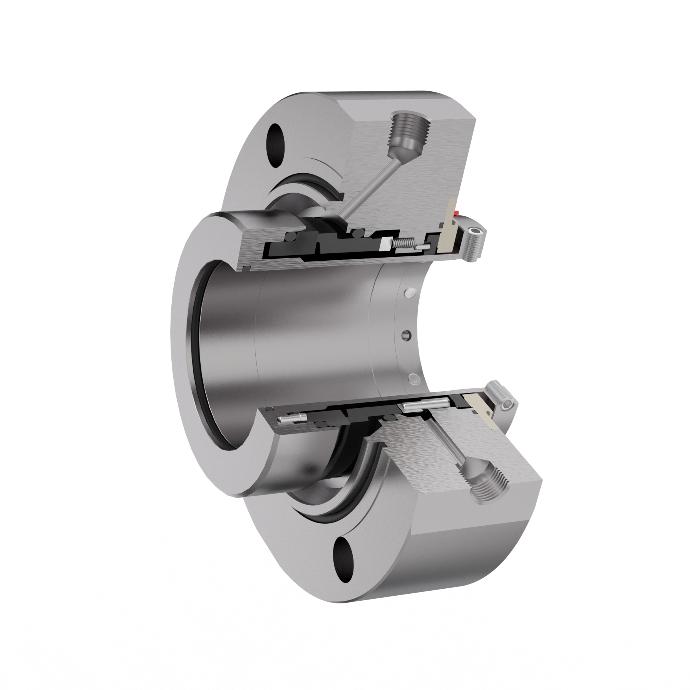 The API 9200 Seal is an API 682 seal designed to be the cornerstone of our oil and gas offering. Featuring flexible stator technology as well as springs protected from process media delivers a seal that performs exceptionally well in a range of environments including light slurry applications that often shorten the life of some legacy API seals.

The Thomson 9000 series pusher seals are all stationary flexible element as standard.

According to API 682 4th Edition

"Perpendicularity of the mating ring to the shaft axis is important for both stationary and rotating flexible element designs. "

"Perpendicularity for a rotating mating ring mounted on the sleeve (where a stationary flexible element is used) is controlled by the seal sleeve run out and perpendicularity of support surface on the sleeve. It is independent of the seal chamber face run out. An advantage of a stationary flexible element is that it will deflect to a fixed position to align with the rotating face. "

This fundamentally means that whilst the current standard views rotating and flexible element seals as the same. A design using a flexible stationary element has some benefits over flexible rotary designs that can not be dismissed.

API Seals and Suspended Solids:
Seals using a stationary flexible element with springs external to the process liquid are also a proven design in process fluids with high particulate concentrations.

Stationary flexible elements are preferred in many oil and gas applications such as:
High-temperature pumps
Multi-stage pumps
Pump installations with high pipe strain
High-speed applications
Shaft diameters above 4.25"
It is important to note that the advantages of the flexible stationary face would apply even in applications that are not as demanding as those noted above. Flexible stationary faces should be considered the preferred option in almost all applications.