TRS 310 Cartridge Single Split Mechanical Seal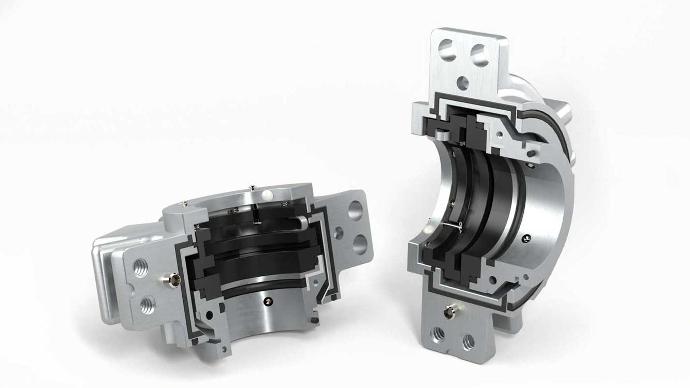 The A.R. Thomson TRS 310 is a class-leading single split mechanical seal. Designed for streamlined installation in larger, difficult-to-service equipment. This innovative seal can be assembled onto your rotating equipment with little to no disassembly of the parent equipment necessary. The seal makes an excellent alternative to gland packing in applications where an end user is looking to eliminate the process leakage as well as resource consumption that normally accompanies a traditional packed gland arrangement. The TRS is specifically designed to install on an area of the shaft that is unaffected by wear from a packing set, eliminating the need to replace sleeves or shafts before upgrading to the seal. The ability to service the seal beside the equipment also means that when necessary the equipment can be serviced and returned to production in a much shorter time frame.

Production Without Delay, TRS 310 Can Deliver
The TRS 310 is designed to be easy to install, care was taken during its development to ensure that no adhesives or custom O-rings are needed in order to assemble the seal on your equipment as well as adding features such as self-centering features on the seal gland and utilizing the flexible stator design to allow the installer to confirm proper face compression as well as angular alignment. These features along with larger clearances to accommodate radial and axial movement, coupled with a flexible stationary design that isolates the seal springs from process media gives an extremely reliable seal platform designed to drastically improve MTBF.
Split Single Seal Specifications


Retrofits virtually all pumps such as: Goulds, Durco, Bingham, Sulzer, Ahlstrom, Worthington, Nash, Hayward-Gordon, Moyno, Wemco, Canada Pump, Viking, Weir, Cornell, A-C, Taco, IDP, etc. The TRS 310 has a maximum service condition of 250°F (120°C), maximum pressure rating of 200 psig (13.7 bar), and a maximum shaft speed of 3600rpm. Actual performance limits are dictated by multiple factors that can be beyond our control. Please Contact the to A.R. Thomson Group Seal Dept for more information.
Have A Question About TRS 310 Seals?