TRS 420 Cartridge Split Double Mechanical Seal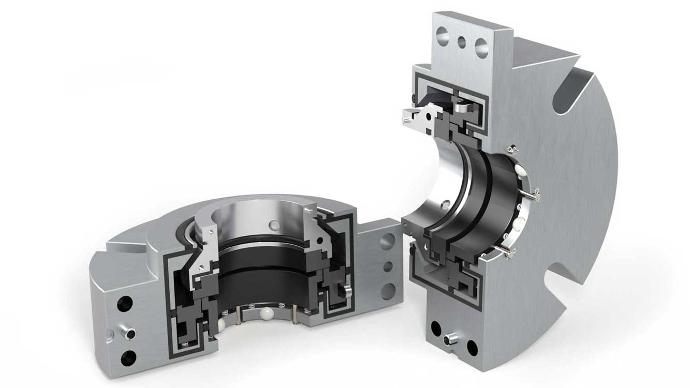 The A.R. Thomson Group TRS 420 Split Double Mechanical Seal is designed to allow for seal service next to the equipment with the least amount of downtime needed. The TRS 420's unique concentric face configuration effectively handles high levels of radial run-out. This innovative, flexible stationary configuration allows for superior misalignment compared to conventional mechanical seals. This face configuration provides excellent cooling effect from the barrier fluid, greatly improving MTBF. When used in conjunction with an A.R. Thomson seal support system. the TRS 420 seals can also circulate the barrier fluid in a closed loop, reducing the use of costly resources as well as improving reliability.

Reduce Labor Hours and Downtime with TRS Split Double Seals
The true benefit of our split seal offering is the ability to service the seal without the need to dismantle the rotating equipment first. In most cases, once the equipment is safely isolated only the seal itself is removed from the pump. This allows for faster and more cost-effective service of the seal and the ability to return the equipment to operating capacity sooner.

The TRS was designed with simplicity in mind, the seal requires no adhesives or unique elastomer designs, making installation much more straightforward than some legacy designs. The installation of any TRS seal is very quick and easy. The seal also features alignment indicator pins to provide visual guidelines, ensuring correct seal alignment. This not only saves time during installation, but the pins also serve a dual purpose as visual wear indicators throughout the life of the seal. In an event of a repair, repair kits are available for quick in-field repairs, saving time and money.
Split Double Seal Specifications
Retrofits virtually all pumps such as: Goulds, Durco, Bingham, Sulzer, Ahlstrom, Worthington, Nash, Hayward-Gordon, Moyno, Wemco, Canada Pump, Viking, Weir, Cornell, A-C, Taco, IDP, etc.

The TRS 420 has a maximum service condition of 300°F (150°C), maximum pressure rating of 150 psig (10 bar), and a maximum shaft speed of 3600rpm.

Actual performance limits are dictated by multiple factors that can be beyond our control. Please Contact the to A.R. Thomson Group Seal Dept for more information.